Every church needs to have a purpose statement that answers the question, "why do we exist?" At Junction Community Church, we filter every idea, ministry, and budget decision through our purpose statement. If what we plan doesn't help us meet our purpose, then we don't do it.
Our Purpose Statement

JCC exists to lead people into a growing relationship with Jesus Christ.

Our Values
Worship
Growth
Community
Mission
Compassion
Service
Our Beliefs

About the Scriptures
We believe… the Scriptures are inspired by God and declare his design and plan for mankind.

About God
We believe… there is only One True God revealed in three persons…Father, Son and Holy Spirit (commonly known as the Trinity).

About Humanity
We believe… though originally good, man willingly fell to sin ushering evil and death, both physical and spiritual, into the world.

About Salvation
We believe… every person can have restored fellowship with God through 'Salvation' (accepting Christ's offer of forgiveness for sin).

About the Church
We believe… the church has a mission to seek and save all who are lost in sin. We believe 'the Church' is the Body of Christ and consists of the people who, throughout time, have accepted God's offer of redemption (regardless of religious denomination) through the sacrificial death of his son Jesus Christ.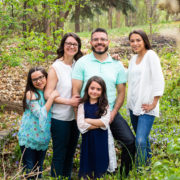 Paul & Mary Espinoza
LEAD PASTORS
Paul was born and raised in the San Luis Valley of Colorado and he is proud to be a Colorado Native. Mary grew up in beautiful Taos, NM, just a short trip from where Paul grew up.
Paul has been involved in ministry since 1997 and loves communicating God's principles of life change. He is a graduate of Master's Commission and also attended Epic Bible College in Sacramento, CA. He is passionate about raising up emerging leaders and creating relevant church environments. Paul and Mary have been leading Junction Community Church since August of 2007. Together, they are excited about all that God has done, is doing, and will do in the city of Grand Junction through JCC.
Paul and Mary, have been married since 2001 and they live in Grand Junction, CO with their three daughters, Rebekah Joy, Jadah Hope, and Selah Faith.
As a family, the Espinoza's, enjoy traveling, being involved and fostering their children's various interests and activities, and having all sorts of indoor and outdoor fun! The Espinoza's enjoy doing life together and living it to the fullest! Their favorite time of the day is gathering around the dinner table and sharing their daily "highlights" with each other.
Junction Community Church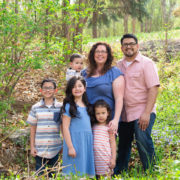 Abel Oqueli
ASSOCIATE PASTOR
Abel Oqueli was born in San Jose, CA. He moved to Fort Collins, CO when he was a teenager and there, got involved in his local youth group. During that season of his life, he felt the unmistakable call of God. In pursuit of God's call, he attended to Colorado Masters Commission and while there, met his wife Ashley. Upon graduating, Abel became Outreach Pastor at Healing Waters Family Center. He and Ashley later followed God's call to New York where they served as Associate Pastor and Children's Pastor.
God has blessed them with four children: Ezekiel, Lily, Hannah, and Benjamin. Currently, he serves as the Associate Pastor at JCC. Abel is excited to see all the amazing things God has in store for him, his family, and for Junction Community Church.
Abel and the entire Oqueli family LOVE all things Disney, and enjoy taking annual trips to their favorite place, Disneyland. They enjoy traveling and taking adventures together as a family. The Oqueli's also enjoy visiting their families in Fort Collins, CO and Minnesota.
Junction Community Church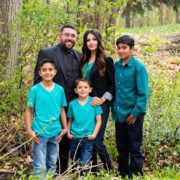 Micah & Elizabeth Espinoza
ASSOCIATE PASTOR | EXECUTIVE DIRECTOR (WAGEES PROJECT AT JCC)
For nearly twenty years Micah has inspired, challenged, and led leaders in the city of Denver, CO and throughout the country. He has a passion for identifying, investing, and empowering people young and old, to become the catalyst leaders for tomorrow's change. Micah carried out this vision by serving as the Executive Director and visionary founder of the Denver Leadership Initiative (DLI), a leadership development program for existing ministry leaders in the Denver Metro Area.
Most recently, Micah served for 15 years at Praise Center Church in Denver, CO as Associate Pastor, and where Elizabeth also served as the Church Accountant/Bookkeeper and Worship Leader. Both Micah and Elizabeth acknowledge that their faith in God and in His Word has always guided and provided for them, through the many changing seasons of life. They understand that they are blessed to be a blessing, and one of their greatest joys as a couple is pointing and discipling others into a thriving relationship with Jesus Christ.
Micah met his wife Elizabeth while he was a music producer and she was a DJ. God used their passion for music to bring them together in 1999, when the couple happily married. The Espinoza's have three growing sons: Micah Jr., John-Paul, and Justice. With all of that testosterone, there is never a dull moment in their home! They are enjoying the rollercoaster of parenthood, as they strive to be good role-models and raise fun- loving, respectful, and faith-filled young men. In their free time, you can find the Espinoza family camping, fishing, and hiking in the great outdoors. The family also enjoys making music, investing in friendships, and enjoying quality time with their precious family.
Micah and Elizabeth are honored to serve the JCC family, and know that the blessings here will be mutual! The Espinoza's are encouraged and enthusiastic about all that God is doing here in Grand Junction and are grateful to be a part of all that God is doing in and through JCC!
Junction Community Church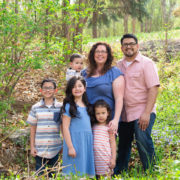 Ashley Oqueli
CHILDREN'S PASTOR
Ashley was born and raised in Minnesota, and after 18 years of freezing, she decided to follow God's call and move to Denver, CO (the irony!), to attend Master's Commission. While in Denver, Ashley met and married her husband, Abel and they began serving together in ministry.
Ashley has been involved in children's ministry since she was in high school but has made it her full time calling since 2006. She has served in ministry in Minnesota, Colorado, and New York, and is excited and expectant for what God is doing here in Grand Junction.
One of Ashley's greatest loves is children. She loves teaching and inspiring kids to be all that God has created them to be, and seeing them learn and grow in God's Word. She is passionate about leading kids into a life-long, dedicated relationship with Jesus.
The Oqueli's have been married since 2007 and God has blessed them with four amazing children: Ezekiel, Lily, Hannah and Benjamin. Ashley's feels her greatest calling is to be mommy to these four blessings.
The entire Oqueli family LOVES all things Disney and Disneyland. Traveling and adventuring together is the way The Oqueli's love to experience life. The Oqueli's also enjoy visiting their families and game nights with friends.
Junction Community Church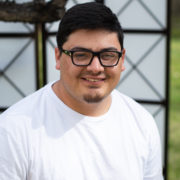 Eloy Trujillo
YOUTH PASTOR
Eloy was born in Los Alamos, NM and raised in Taos, NM. Eloy recently graduated from Southwestern Assemblies of God University (SAGU) with his B.S. in Business Marketing, A.S. in Business Administration, and A.A. in Bible. In other words, Eloy loves to learn! During his four-year career at SAGU, he was also involved in his local chapter of American Marketing Association.
One of Eloy's biggest passions is skiing the slopes. Growing up in the Taos Valley of New Mexico, Eloy was able to ski frequently and enjoy his favorite pastime. He dreams of one day being able to travel the world and "Chase Winter".
While at SAGU, Eloy began to realize the call that God had for him in ministry. That call eventually brought him here to the Grand Valley to encourage and share the hope of Christ with the students of Grand Junction.
Eloy truly believes that this generation of students will make the biggest impact on their community and world. He is excited about working with the students, and is expectant for all that God has in store for the student ministry of JCC.
Junction Community Church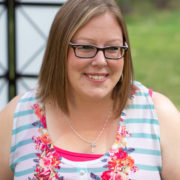 Shay Rivera
FINANCIAL ADMINISTRATOR | PROGRAM ASSISTANT (WAGEES PROJECT AT JCC)
Shay was born in sunny Florence, CO then moved to the plains of Kansas for 21 years. After meeting and marrying her husband Alfonso, the couple decided to make the move to Grand Junction, CO in 2007. The Rivera's have been part of the JCC family since 2013, when after connecting with JCC's Women's Small Group, Shay felt that her whole family could connect and grow at JCC.
Shay initially served as a volunteer in the Financial department for JCC, which lead into her current role as Financial Administrator for JCC and the Program Assistant for the WAGEES project.
Shay and her husband Alfonso have 3 very outgoing boys: AJ, Austin, and Alijah. The Rivera's enjoy spending time in the great outdoors, camping, fishing, and 4-wheeling. Shay also enjoys a good cup of coffee, painting, and crafting in her spare time.
In Shay's words, "Seeing where the church was 5 years ago, and now where JCC is today, it's so exciting!" God has great plans for JCC and we are thankful for Shay and the Rivera family to be a part of all that is yet to come!
Junction Community Church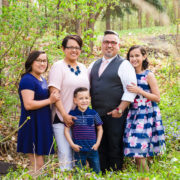 Josh & Liz Trujillo
ASSOCIATE PASTOR
Josh and Liz have served together in ministry for the last 17 years. Josh, a native of Grand Junction, and Liz, from Greeley, CO, served as youth pastors in South Carolina for 6 years and Associate Pastors in Denver for 11 years. During their time in Denver, Josh worked for Save Our Youth as the Education Director helping at- risk students get ready for, into, and through college and post-secondary education. Josh is a graduate of MSU Denver with a degree in Mathematics and Liz graduated from CCD with a degree in English.
Liz has also served as a Wedding & Event Coordinator in both South Carolina and Colorado and enjoys helping others celebrate their special moments in life. In addition to event planning, Liz enjoys singing and writing on her blog, sharing about real-life experiences and encouraging others along the way.
Josh & Liz have been married since 2000 and have 3 children: Lianna, Talia, and Tobias. The Trujillo's love to travel and explore new places and great food together. Music and sharing life with others is a part of their DNA as a family, and hosting gatherings is a fun way to enjoy both.
When the Trujillo's have some free time, you might find them at a local coffee shop or enjoying time with family and friends.
Junction Community Church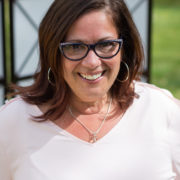 Kimberly Lindsey
EXECUTIVE ASSISTANT TO LEAD PASTOR | EXECUTIVE ASSISTANT TO WAGEES DIRECTOR
Kimberly was born in Granite City, IL, but moved to Pennsylvania with her grandparents, Bob & Jewel, when she was 14. Kimberly feels extremely fortunate to have been raised by such loving and faith-filled grandparents, who always demonstrated what a life in service towards God and others looked like.
Fast forward many years, Kimberly found herself in a place where she needed to make a life change. Leaving PA, Kimberly traveled 2000 miles, to Grand Junction, CO. Walking in prodigal shoes, she found Pastor Paul from JCC on Facebook and thought, "Let me check this out." During the first service she attended, Kimberly rededicated her life to Jesus. Since then, Kimberly has been an active member of the JCC family.
Kimberly is excited and thankful for God's love and protection over the years. She is happy to do anything that is needed to help JCC reach all of Grand Junction with God's love.
Kimberly has 2 daughters and 5 grand-babies. She is always smiling because of these blessings and because of the amazing love of God. We are so thankful that she is part of our Dream Team!
Junction Community Church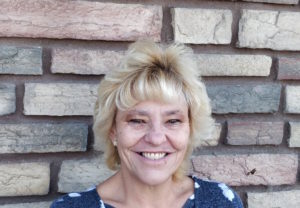 Pamila "PJ" Wall
CASE MANAGER| WAGEES PROJECT AT JCC
PJ grew up on the West Coast of California with her devoted parents, Jerry & Bev. Being the stereotypical "Middle Child" of four children, PJ rebelled- always pushing the boundaries and coloring outside of the lines of life. As a young girl, PJ grew up LDS, but turned to the Native American Culture to seek peace and hope.
Her journey took her to places she never thought she would go, leading down difficult paths, experimenting with drugs, alcohol, and finding herself in many abusive relationships. Those experiences, however, never seemed to satisfy.
In 2017, PJ found herself in yet another abusive relationship after moving to Grand Junction, CO. However, this time was different. This time, she also found the love of God while attending Junction Community Church. She also found the strength to leave the abusive relationship. She recalls how the community at JCC embraced her and looked beyond her appearance. She remembers feeling seen, loved, and welcomed into the family. PJ had finally found what she had been searching for all her life: not a person, not a place or a thing to fulfill her needs, but she found a loving relationship with her Heavenly Father!
Years ago, PJ would have never imagined being in full-time ministry, but she is an incredible addition to the JCC team as she walks alongside men & women in our WAGEES program. She aims to be a light to help others who are searching for answers just like she once was.
Currently, PJ serves as a WAGEES Case Manager. When PJ finds free time, she can be found feeding the homeless, or making the world's best tortillas chips. PJ is such a blessing to have on our team and in our community!
Junction Community Church